A brick wall finally knocked down
Posted on 7th August 2013
Yesterday was one of my most lucrative and rewarding days in my research for a long time. I was half way through writing an article on a particularly stubborn brick wall, when I thought instead of my usual searches on Ancestry, I'd try searching for some records on Find My Past (which I had recently gained access to) as I have found records on there that are not elsewhere.
The brick wall in question was my 3x great-great-grandfather Thomas Collingwood. I hadn't found him in many records at all, and it was only due to his father's uncommon name that I have been able to trace back Thomas' forebears. Here is what I knew about him before yesterday's revelations:
His parents were William Dixon Collingwood, a Captain in the Army, and Phoebe Boyles, who married in 1815 in South Bersted, Sussex.
He had an older sister, Eliza Elizabeth Collingwood, baptised in 1816 in Wymering, Hampshire.
He had an older brother, William Cuthbert Collingwood, born in 1817 in Halifax, Nova Scotia, British North America.
He was born in England around 1821 (information from the 1850 US Census)
He married Eliza Smith in 1847 in Ainstable, Cumberland. His occupation is listed as Gentleman.
He had a son, William Dixon Collingwood, born in 1848 in Newcastle upon Tyne.
He left with his wife and son on the ship Camillus from Liverpool, and arrived in New Orleans in April 1850.
He was living with his wife and son in St Charles, Missouri in the 1850 US census, working a Physician.
He had a daughter, Agnes Eliza Phoebe Collingwood, born in 1852 in Ainstable, Cumberland.
His wife was living, widowed, in Ainstable with her two children in the 1861 census.
The US censuses are not particularly helpful when it comes to places of birth – in 1850, Thomas lists himself as simply being born in "England" and aged 29. His father William was born in Alnwick (Northumberland), married in South Bersted (Sussex), lived in Pagham (Sussex) and Dalston (Cumberland), and would have at some point been in both Wymering (Hampshire) and Halifax (Nova Scotia, British North America); this makes it pretty difficult for me to pin down where Thomas would have been born.
I found the baptism record shown in the Parish Records Collections 1538-2005 on FindMyPast. Thomas was baptised at Charles Church in Plymouth, Devon on 14th November 1821. His parents were listed as William Dixon Collingwood, a Lieutenant in the 5th Veteran Battalion, and Phoebe. The address the family were living at was listed as Farum Place – I am yet to find where this is.
This solved where and when Thomas was born. Plymouth makes perfect sense – Thomas' father William co-owned a boat with his brothers, The Marquess of Bute. This boat would lated be used by Thomas' sister to emigrate to Australia. William had to travel a lot for his Army career, and his boat might have been the way he did so.
I also had not confirmed where Thomas died. My initial thought was that he died in St Charles in 1851, resulting in his pregnant wife and son heading back to England alone. I did some extensive searching in the British Newspapers 1710-1965 collection on FindMyPast, which amongst many other things (which I will eventually cover in their own posts) revealed when and where Thomas died.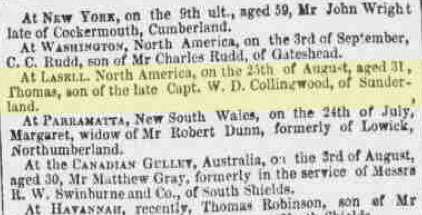 An article in the Newcastle Courant from 11th November 1853, published the death notice shown. It confirms he was the son of Captain W. D. Collingwood, and that he died on 25th August the same year at Lasell in North America. I can only assume this means Lasell College in Newton, Massachusetts as there doesn't appear to be anywhere called Lasell in the United States.