Discovering Roots in the Scottish Borders
Posted on 1st June 2016
My Collingwood line has always been one of my most interesting, and I've been trying hard for a number of years to trace it back as far as I can. I know quite a lot about my 5x-great-grandfather Dr Thomas Collingwood but his ancestors are still fairly myserious.
I have known for many years that Dr Thomas Collingwood's father was named Robert. I had found Thomas' baptism record that showed he was baptised at Mordington in Berwickshire, Scotland (quite literally just across the border from Northumberland) and that his parents were named Robert Collingwood and Janet Martin. His obituary mentioned that his mother was called Elizabeth Martin, but everything else on the baptism record matched, so I think this was just a mistake in the obituary. The baptism showed that Robert farmed at "High Cocklaw", a farm I have since tracked down to be on the English/Scottish Border less than half a mile from Mordington. His obituary said he was born at Bates Cross; this could be another name for the same farm, another mistake or perhaps a name for the crossroads near High Cocklaw.
Due to a number of records from the Northumberland Archives, I was sent by a researcher looking into the Collingwood family, I had previously believed this Robert to be born in 1725, the son of Alexander Collingwood of Little Ryle. Using these same records, it was fairly easy to trace this Collingwood line back to the early 15th century.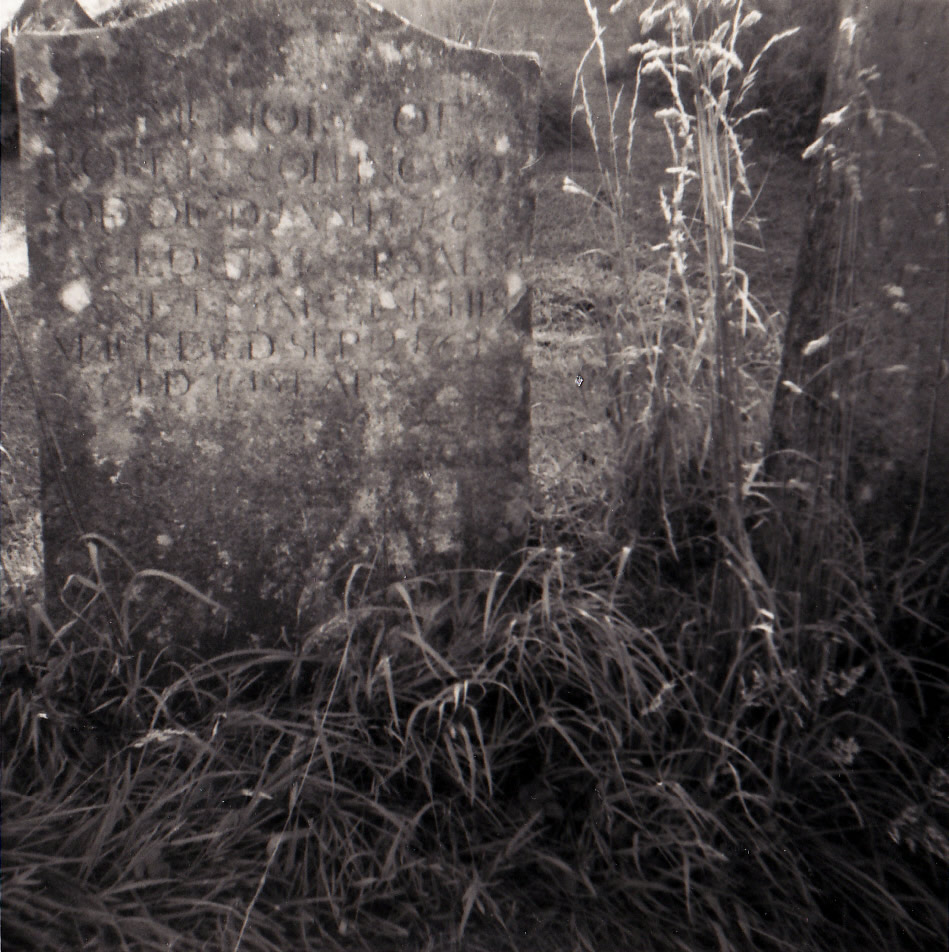 However, last year I got into contact with a distant Collingwood cousin whose father had researched their Collingwood ancestry in the 1950s. She provided some information that was new to me, the most interesting of which being that Dr Thomas Collingwood's parents were buried in the village of Ayton, in Berwickshire in Scotland. She had a photo of the grave and the inscription revealed that Robert died in 1788 aged 87, meaning he was born in 1700 or 1701 – definitely not in 1725. It also revealed that Robert's wife Janet died in 1768 aged 44, meaning she was born in 1723 or 1724. On top of that, on the reverse of the gravestone was inscriptions relating to other burials of Robert and Janet's children and their respective families. I was able to match up these names with Scottish baptism records to confirm the names of four of his siblings – all girls. This matched up with his obituary that states he had 5 sisters (one of whom is evidently yet to be found).

I have had no luck finding any more information on Robert Collingwood. I do not think his family were Scottish, but instead most likely Northumbrian like the rest of the Collingwood families of the era, and he just happened to settle in the Scottish borders. I have found many conflicting records online about Robert's ancestry; everything that I have found referring to Dr Thomas Collingwood (and his brother R.G A. Collingwood) all agree that he was descended on his father's side from Sir Daniel Collingwood, whose seat was "Brandon White House" near the hamlet of Brandon in the Cheviot Hills in Northumberland.
According to literature online, specifically in one publication "An Historical, Topographical, and Descriptive View of the County of Northumberland, and of Those Parts of the County of Durham Situated North of the River Tyne, with Berwick Upon Tweed, and Brief Notices of Celebrated Places on the Scottish Border.", Sir Daniel was first chaplain, then later sword-bearer to King Charles II. He had 6 sons, "from whom sprung many able and upright magistrates and skilful officers in both the army and navy". One of these sons was, or more likely was the father of, a J. Collingwood of Howburn in Glendale Ward, Northumberland, who was attained in 1715 (possibly in relation to the Jacobite Uprising?) along with his wife, a member of the Selby family, and fled to France where they both later died of typhus fever. They left behind two sons, John and George. The former was an apprentice to a merchant in Newcastle, and the latter – "about seven years old at the time" – was left in the care of a steward, James Fowler, who bred him to agriculture and set him up in a small farm. The publication then mentions that John Collingwood was the grandfather of Lord Admiral Cuthbert Collingwood, and George Collingwood was the grandfather of Dr Thomas Collingwood (which making them second cousins).
Now some of this does not make sense at all. First of all, the Lord Admiral's grandfather was also called Cuthbert Collingwood. Secondly, if this George Collingwood was Dr Thomas' grandfather, that would make him Robert Collingwood's father. As Robert was born in 1700 or 1701, then there is no way a boy "about seven years old" in 1715 could be his father.
However, what does make sense is the mention of agriculture. In Dr Thomas' obituary, it is mentioned that his father Robert was the first to introduce the improved turnip husbandry to Berwickshire, which Thomas followed but introducing it to more of Western Scotland. What could make sense is that the George Collingwood mentioned in the publication is being confused wit Robert. Being "about seven years old" in 1715 would make his year of birth around 1708 which isn't too far off 1701. Its not unfeasible to think that by 1788, Robert's age had been misremembered or misrecorded. The farm that the steward James Fowler set up the young Collingwood could have been High Cocklaw/Bates Cross.
Dr Thomas' obituary states that Robert was "a man of most exemplary and religious habits, always endeavouring to instil into the minds of his family, consisting of one son and five daughters, a just sense of their duty toward God and man, and becoming resignation to the will of Providence, under the most trying of afflictions." The distant cousin that sent me documents recalled some family papers her father had found that indicated Robert suffered from some sort of the problem; perhaps this was the "most trying of afflictions."
Looking into Janet Martin initially seemed a bit more fruitful. The distant Collingwood cousin's father's research stated that Janet was part of a big papermaking family from Ayton. I did some research on the internet which suggested that there was truth to this, and also got in contact with a fellow researcher who had done extensive research into the papermaking Martins.
He told me that the Ayton papermaking family of Martin originated in Ireland, relocated to England and established many paper mills in Yorkshire. Ebenezer Martin, born 1777 operated a mill at Otley, Yorkshire in 1802, moved to Kelso to work in a book printing/binding business then took over the Millbank Papermill in the Parish of Ayton in 1812. His son William operated mills at Allanton and Chirnside pre 1842 then started the Bleachfield Mill in Ayton which operated through to 1942. A descendant of the family, Bill Martin, died only a few years ago aged over 100. His descendants still live in the family home at Bleachfield to this day. I was also sent a Martin family tree.
Whilst this was very interesting, Janet Martin was born in 1723 or 1724, many years before Ebenezer Martin was born in in 1777 in Yorkshire. I was told by the researched that there were some unrelated Martin families who were established in the area before, something which also came up online. So it would seem sadly that Janet is part of one of these families. The only information I have about her is from Dr Thomas' obituary (although it incorrectly lists her name was Elizabeth), which states she was a daughter of William Martin, Esq. of Redhall. I have found that Redhall is a hamlet about a mile from Ayton on the way to Eyemouth.