The Smith family of Ainstable and Huguenot connections
Posted on 5th August 2014
I knew a fair bit about my 4x great-grandparents Henry Smith and Agnes Atkinson, but whilst I had traced Agnes' ancestors, Henry's line was a bit of a mystery. With the name of Smith and the fact that in the census records he lists his birthplace simply as "London", I had hit a brick wall. Finding his ancestors didn't seem hopeful.
Henry was an auctioneer and innkeeper at Ainstable in Cumberland during the early to mid 1800s. He married Agnes Atkinson around 1825. They supposedly had an irregular or "clandestine" marriage in Annan, Scotland (very near the popular elopement town of Gretna Green), and as such I cannot locate their marriage record. Agnes was the daughter of schoolmaster John Atkinson and his wife Barbara Coward, born in Cumrew (a village a few miles north of Ainstable) in 1803.
I recently received an email from a distant cousin in New Zealand. She is also a descendant Henry and Agnes through their daughter Ann Smith – through Ann's son Frederick Mitton who emigrated to New Zealand in 1903. She has also done some fairly extensive research on the Smiths and Atkinsons of Ainstable, but had also been unable to go back to any of Henry's previous generations. She did however bring to light a record I had (foolishly) previous dismissed; a census record for Henry and Agnes' son Thomas Smith.
In 1851, 18-year-old Thomas Smith is living in Ainstable with a Thomas Watson, aged 36, a joiner and carpenter, born in Ainstable; his wife Elizabeth Watson, aged 35, also born in Ainstable; their daughters Elizabeth, aged 2, and Jane, aged 1 month. Thomas Smith is described as "nephew" in relation to the head of the household. Initially this confused me as Thomas Watson could be neither Thomas' father's brother or his mother's brother – if so, surely he would have the name Smith or Atkinson? It soon became apparent that Thomas Smith was in fact the nephew of Thomas Watson's wife Elizabeth.
With two young children, and the fact they were both born and living in Ainstable, I assumed that Thomas Watson and Elizabeth would have married there. A search on the BMD records revealed a marriage registered in 1847 in Penrith for a Thomas Watson and a Elizabeth Sarah Smith; Elizabeth was Henry's sister.
Elizabeth Sarah Watson died in 1893 aged 78. This would mean she was born in 1815, making her younger than her brother Henry. Henry was born in London in 1805, and Elizabeth in Ainstable, so their parents must have come to Ainstable some time between those two dates.
A quick search of the baptism records online for an Elizabeth Sarah Smith born in Ainstable around 1815 found a matching record, listing her parents as Joseph Smith and Elizabeth – my 5x great-grandparents. Fairly common names, but whilst Henry and Agnes named their first son (who died in infancy) John – most likely after Agnes' father John – their second son was called Joseph. They also had a daughter called Elizabeth.
Elizabeth Sarah Watson can be found 10 years later in 1861 living with her husband Thomas, daughters Elizabeth and Jane and two new children, Harriot and Thomas. They were living at Beckside in Ainstable, a residence that the family lived in up until 1949. In the same house (I believe it is quite large building) is her niece Eliza Collingwood (nee Smith). Also living at with Thomas and Elizabeth is a Peter Smith, aged 18, this time listed more clearly as Thomas' "nephew-in-law". This Peter was born in Lazonby, Cumberland (a village a few miles from Ainstable). Henry did not have a son called Peter, so this must mean there was another Smith brother of Henry and Elizabeth's.
Going back to the 1851 census again, a Peter Smith born in 1843 can be found him living with his family in Lazonby; his parents listed as Horatio Joseph Smith and Mary, and siblings Joseph, Harriot, Alfred and Horatio. Horatio Joseph was a brother of Henry and Elizabeth Sarah. Helpfully, he is a little bit more specific listing where he was born than his brother Henry, listing it as "St Pancras, London".
With his uncommon name, another search quickly revealed a baptism for Horatio Joseph at St James' Church, Clerkenwell, London on the 29th November 1807 to Joseph Smith and Elizabeth Ann.
A bit more digging revealed a baptism for yet another sibling; Harriet Mary Smith, baptised at St Pancras Church on 18th April 1813. Joseph is recorded as a "Gentleman" on the baptism record.
This would mean that Joseph and Elizabeth moved from London to Ainstable around 1814.
As Horatio Joseph and Harriet Mary were both baptised in the St Pancras/Clerkenwell areas of London, and I knew Henry was only 2-3 years older than Horatio Joseph, I looked through a dozen or so pages of the baptism register of St James' Church in Clerkenwell and found an entry for the 22nd January 1806 (but with his birth date recorded as 29th November 1805) for a Henry Rochat Smith, son of Joseph Smith and Elizabeth Ann Smith. The unusual middle name was initially confusing, but it would soon become clear.
A look at the 1841 census record for Elizabeth Sarah Smith, shows her living in Ainstable with another Elizabeth Smith – her mother. The elder Elizabeth is listed as being born not in the county of Cumberland (London, presumably), and her age is given – rather unusually for the 1841 census – specifically as 62, giving her year of birth as 1779. There is a death registered in Penrith for an Elizabeth Ann Smith in 1844, and I tracked down a newspaper announcement from the Carlisle Journal in the same year:
At Beckside, Ainstable, on Friday 27th ult. [September], after a protracted illness, born with Christian fortitude, Mrs. E. Smith, relict of the late Mr. Joseph Smith, of the above place, aged 64 years.
Now I had to find a marriage for Joseph Smith and Elizabeth Ann to hopefully discover her maiden name. Eventually, I found it – on the 26th October 1804 at St Andrew By The Wardrobe Church in the City of London, the marriage between Joseph Smith and Elizabeth Ann Rochat. Henry's middle name now made sense.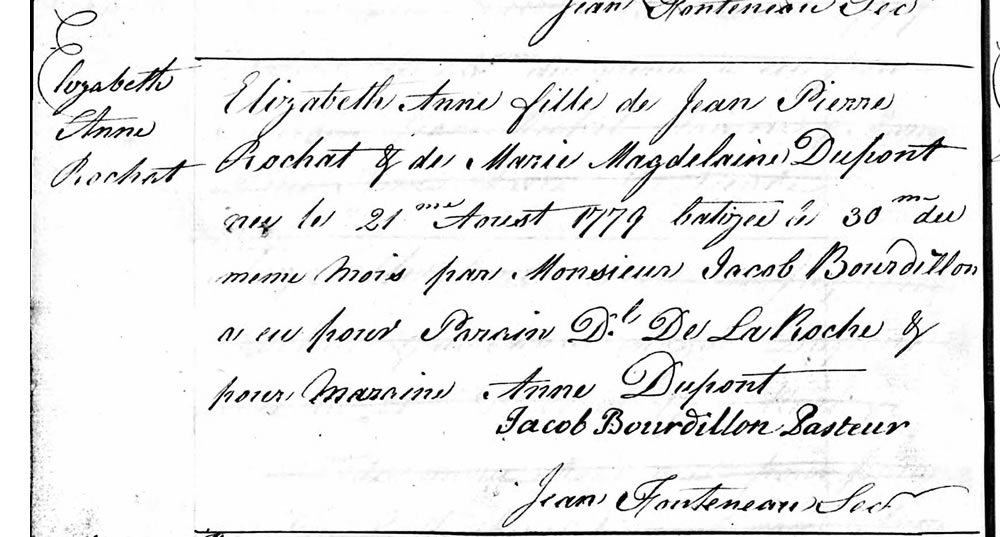 I realised that Elizabeth Ann Rochat couldn't be a hugely common name, and a search immediately brought back a baptism record for her. She was baptised at the "La Patente" French Hugueunot Church in Spitalfields London on 30th August 1779, to Jean Pierre Rochat and Marie Magdelaine Dupont – my 6x great-grandparents.
Finding this Huguenot ancestor reminded me of part of an interview taken with Alice Cockbaine Mitton – a granddaughter of Henry and Agnes – by her son in the 1980s. Below is an extract from the interview transcript:
Ted [Alice's son]: "…where does the Huguenot come from?"
Alice: "…in the 1600s the Huguenots in France were being greatly persecuted and a little girl by the name of Hariotte Desrochious was sent over from France by stealth in an apple barrel. I'm sure the apple barrel was well marked and met in London, but she was smuggled out of France in that way to London, where there was a colony of Huguenots and a Huguenot Church, and the ancestors on her side, one of them owned a considerable amount of property near the river Eden at a little village named Ainstable, a few miles from where we lived. But it was possible to go in a day's journey – by horse and conveyance. He was, this ancestor, on my grandmother's side, had connections with the Bank of England and was employed there in London, and he must have gone to the Huguenot church, which is still I understand in a state of repair and being used. He met this girl from France and fell in love with her, so he would have wanted to marry her. So he went back to his lands in the north which has a small house on it at the time…and he had it extended. He had what they called a parlour… and a bedroom built on and it was to this home he brought his bride. I don't know the year, but this was some time in the 1600s. When the bride arrived at this little hamlet of Ainstable, she was horrified to find there was no school for the children and she had been educated. So she opened her home, having help in the home she was able to do it, every morning all the village children who were willing to come, came to her home and sat round the long table and she taught them to read and write and I suppose some arithmetic…and at quarter to twelve they were dismissed and she retired to her bedroom for prayers every day… this gives me great pleasure when I think back that distance. So all the women, as well as the men, on that side of the family were educated."
Ted: "…You said she had been a Smith?"
Alice: "She had been – eventually they were Smith, the descendants of that Huguenot relative, the name as I knew them and I stayed in that same house [Beckside]."
I am not entirely sure yet what line this mysterious Huguenot ancestor, "Hariotte Desrochius", is from; Alice says that it was from her grandmother's side – the Atkinsons – but as far as I have found, this family were from the Cumberland villages of Lazonby, Cumwhitton and Cumrew, and before that in the Kendal area of what was then Westmorland – not in Ainstable. I believe the Huguenot line is from the Smith line as I have found evidence that the family was in Ainstable as far back as the mid 1700s.
I have seen the Rochat name written a few different ways including "Roches" which isn't all that far from "Desroches" (I believe "Desrochius" may be a Latinised version of the name), but again I am unsure if the Rochat line is the Huguenot line Alice is referring to, or if there is another Huguenot ancestor in the paternal Smith line.
I have found a Death Duty Register record for Joseph Smith dated 1826, but this does not prove that he died in this year. I also do not know his age at death, so I cannot work out when he was born. I believe I will have to view the Ainstable parish records themselves to find out when Joseph was born.
Another clue I have recently discovered is one on the Cumbria Archives online catalogue that refers to a record that is described as a "Memorandum of agreement on exchange of land on behalf of Lord Carlisle with John Smith of Beckside, Ainstable". This is possible Joseph's father or grandfather.